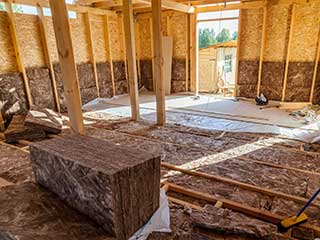 Attic insulation is very important to any building - residential or commercial. It protects the house from damages caused by weather and wind, but more importantly, it also protects its residents. Homeowners don't always time its replacement as they should or as best for them and their house. And so, if you're considering to have it replaced, here's why it is best to do so just before winter comes.
Easier and Cheaper to Warm Up the House
Winter's coming and the cold air is coming with it. Now, we all like our home to be warm and cozy during the day and certainly during the night, as it is our private haven, especially through the cold rainy season. When the insulation gets worn out, the attic is not completely air sealed, letting freezing air into the premises and making it harder and more expensive to warm the house, or quite impossible altogether.
Preventing Wetness Caused by Rain
When the attic is not properly insulated water can find its way in. During rainy days it may cause a serious wetness problem that may lead to malodor, insects, or worse, such as structural integrity issues as water weakens the house's walls and floors. Wetness is something that can cause considerable damage to your house while also substantially enlarging the expenses on fixing it. Installing new insulation just before the rainy season arrives can prevent all those troubles.
The Collateral Damage is Worse
As described, an unsealed attic during rainy days can cause wetness and damage to your house. But the consequences of wetness in your house are even worse than that. Accumulated humidity might lead to mold and even black mold, which is very dangerous to our respiratory system. This means that eventually, the very same worn out, unattended insulation might lead to breathing difficulties and other health complications. But the good news is that all of this can be avoided, simply by removing and replacing the old insulation before winter arrives.
Your family's health is not a thing to put at risk. Call us now for the best insulation removal and installation services in Pasadena and have the most comfortable, warm, cozy, healthy, and dry winter.