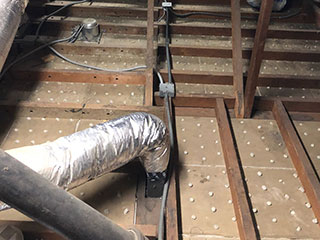 You probably don't spare much thought to your home's crawl space, but it can be housing all sorts of bacteria and mold that will make their way into your household! Learn how we can assist you below.
Professional Cleaning After Rodent Removal
We'd be happy to help you carefully and easily remove the rodents from your crawl space with traps instead of potentially dangerous poison, but what then? They've certainly left behind waste that can carry diseases, and perhaps even carcasses if any of them got trapped. Our professionals can assist you further by providing a thorough cleaning! Using high-quality tools and safety equipment, we'll scour your crawl space to remove all traces of waste and any other debris from nests that they may have left behind. Your crawl space will be completely clear and safe again once we're done!
Keep Mold Out Of The Area
Unfortunately, it's very easy for mold to begin to grow in crawl spaces thanks to being dark and secluded, and pipes that run through may have small leaks or perspiration that's just enough moisture to get mold started. It will not only eat away at anything in the area and cause damage, but it can get into your household as well thanks to hot air rising up into it and carrying spores. Rather than risk your family's health, let us make sure mold can't grow to begin with! We'll go over your crawl space to determine where and how moisture might be able to get in such as any cracks or poor ventilation and take care of any troubles that may be present.
Protect From A Rodent Infestation
Rather than wait and see if rodents invade your crawl space, why not ensure they can't? Our experts will go over your entire crawl space and find any and all potential entrances. We'll close them up with strong steel wool that rodents can't chew through so there won't be any way for them to get in, and of course make sure to seal any cracks or holes. If necessary, rest assured our team is fully equipped to fix your crawl space as well!
Don't wait! Call today to schedule your appointment with our experts!